My co-commuter asked me this morning:

"So, what did you do over the weekend?"

Simple enough question, right? I had to seriously think. All I could come up with was,

"Uhh, er… It was crazy busy. I think I could tell you what I did yesterday, but I'm not sure I even remember what else happened."

One thing that did happen was this: I did a whole slew of things for which I have no photographic evidence, despite the fact that I repeatedly said to myself, "Damn, I wish I had a camera handy".

Saturday morning, we went to a local beach that's popular with the surfing crowd (note: not my picture). Yes, we have surfing this far north, and while it's probably nothing like the conditions in Fiji, Hawaii, and Australia, it's still world renowned (maybe for the local freaks that surf through the winter because the waves are better – never mind that the water is near the freezing mark).

This spot is actually known to be either ridiculously windy (hence the surf?) or locked in fog. The Lovely Wife on this occasion exclaimed that it was possibly the nicest maritime morning she's seen since we moved back. It was that nice. Within minutes, the Toddler was pantless and throwing rocks into the ocean, the sun beating down on the warm sand.

September in these parts is especially great.
-----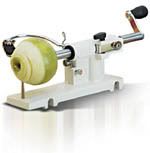 After lunch, we skipped off to do some pie-making. A well-organized group of locals makes (not bakes) pies, for which proceeds of the sales go to the Run for the Cure. For one Saturday in September, each year, this growing group of dedicated volunteers peels, cuts, rolls, and assembles apple pies. Five years ago I think the group made about 1,000 pies (you read that right – A THOUSAND) between the hours of 9AM and 6PM. This year, orders were for 1,800. TLW and I were on the 12-4 shift. I would guess that at any given time, there are about 40 volunteers on the move.

I started my volunteerism this year mixing up the sugar/cinnamon/nutmeg mix (I'll die before I give up the recipe, so don't even ask!), before moving to cutting, and then on to the dirty, but delicious work of peeling. I peeled about 100 lbs of apples, but in years past, I'm quite certain I peeled more.

By 4pm, we'd broken the 1,700 mark and were well on our way to reaching the goal.

Incidentally, all the pies are pre-ordered and sell for $4 each. If you want one, I have about 9 in our deep-freeze.


Saturday evening was reserved for celebrating the birth of the inimitable spacemonkeypants. Chinese food, remote controlled cars that excel in reverse, a U-Game Magic Cube, and brain teasers all made for a wonderful evening at the end of which I felt fuller, smarter, and happy that I was NOT the one who was older*.

Sunday was no relax-fest either. Playgrounds in the morning, the Terry Fox Run in the afternoon (TLW and I balked at the 5km run but weren't brave enough for the 10km run whilst pushing the boys in the Cougar 2 Chariot Carrier, so we opted for 6.6 km -- don't question my math, gentle reader! Either way, the sun was shining, the harbour uhh...well, dirty, and the knees held up nicely.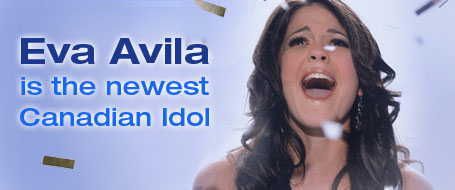 Oh, and in the You-May-Now-Thank-Your-Lucky-Stars-I-Didn't-Recap-Canadian-Idol department, the newest Canadian Idol is Eva Avila. I actually called this one a long time ago (take my word for it), but the top 5 were all pretty talented. Eva could possibly be the best (ok, ONLY) Canadian Idol to rip up the Canadian airwaves, and possibly even go beyond our borders. Especially interesting is that she's from Quebec (but sings with no accent, so she's probably not a Francophone), and she's overcome the challenges of competing in a 99% Anglophone competition: that is, getting votes from English Canada.

*At one point during the peeling-of-apples, I was told by an 8 year old girl that I 'looked old for my age' (which she estimated at"42"). Which got me to thinking, "just when does that stop being a compliment?"
Posted bythemikestand at 11:47 AM  
6 stepped up to the mike:
She looks freakishly like Kat McPhee in that picture...

Ha ha - your comment about what the 8 year old said made me giggle. A few weeks ago a four-year girl asked me, while looking at my husband, "What's your Daddy's name?" That also made me giggle - him, not so much.
Heard you guys have had nice weather. We had snow this morning...

$4 a pie!?!?!? U.S or Canadian? Either way thats a sweeeeeet deal (literally).

Yes, I'm a p(h)unny guy.

Have you blocked my IP yet? =)

Yum, apple pie. Sounds great.
Oh, and you do know that you get older every day right?
Megan

sassygirl: she sort of does, doesn't she? Of course, she's no real Kat lookalike most of the time. You should check her stuff out on the canadian idol site; hell of a singer, that girl.

jen: you're finally commenting! :) seems we're having some of the best weather in the country right now. certainly above-par for September, but no complaints.

dustin: No, i haven't blocked your ip. And I'll put your name on a pie. But you've got to come get it yourself; I don't deliver.(crafty way of getting out of TequilaConPacNW'07, eh?)

megan: Older every day? I don't understand ;) (OK, I'm in denial. But I don't care. If the number doesn't change, I'm NOT older!)

Or I'll pay for the pie (+ interest) by buying you shots of scotch at TequilaCon. Eh? EH? Pretty tempting isn't it?