For bostonredhead, who does the best weekly American Idol 5 recaps...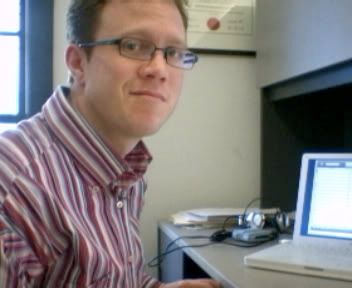 I doff my imginary ten gallon hat to Garet Johnson, a.k.a. The Cryin' Cowboy, as I wear my western-est shirt today.






Git along, little dogie. Git along.
Posted bythemikestand at 12:40 PM  
4 stepped up to the mike:
I LOVE IT!!! That post made me get the biggest smile on my face.

Here's to the little cryin' cowboys all over this country...

Poor kid...wish he could see your tribute. Cheers!

Hehehe! Say, I see you're a big fan of the Mac...do you subscribe to "Mac Addict" or "Mac World?" (My husband is also a Machead.)

Big fan, yes :)

And there's always a copy of Macworld floating around the office. But thanks for putting the bug in my ear about Macaddict. I used to buy myself little magazine treats like "Men's Fitness" (Men's health just got to be too Cosmo). -- maybe now I need something more geeky. I mean, "grown up".

And... I'm still looking for good blogging programs for the mac. In the meantime, I'm using blogger's interface through Firefox, but haven't decided to keep doing so.